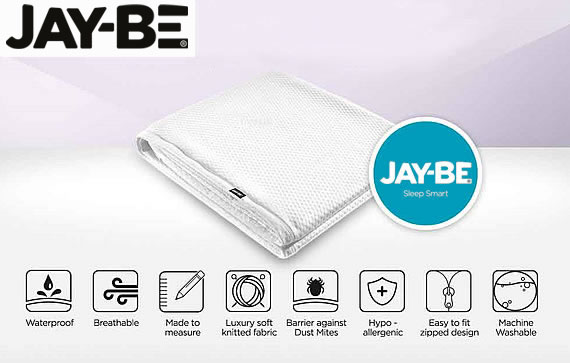 Jay-Be Mattress Protectors
The Jay-Be folding bed Mattress Protectors are made to measure mattress protectors which are waterproof and have micro-pores for breathability. Made from hypoallergenic materials, the easy zip-on design encases the whole mattress and has a knitted surface fabric for an extra soft feel. This protector is an effective barrier against dust mites, allergens and mold and provides a silent and flexible membrane for protection with comfort.
This mattress Protector can be used as a fitted sheet and mattress protector in one and is machine washable at 40°C
These purpose made protectors are specificly made for Jay-Be Folding beds.
---
Jay-Be Mattress Protectors
The Jay-Be Double Bedding Set includes a 10.5 Tog Single duvet and pillows which are both encased in a micro fibre and are filled with hollow fibres. This set also includes an extra soft and easy-care polycotton duvet cover and pillow cases which are made from hypoallergenic materials for a better night's sleep.
All items are machine washable at 40°C, so your bedding can be kept fresh and clean and stored in a protective storage
The Jay-Be Bedding Set Include
• 1 x 10.5 Tog Double Duvet
• 1 x Soft touch Double Duvet Cover
• 1 x Protective Storage bag
The Single Set also Includes
• 1 x Micro fibre encased Pillows
• 1 x Soft touch Pillow Case
The Double Set also Includes
• 2 x Micro fibre encased Pillows
• 2 x Soft touch Pillow Cases